The Famous.
Brough Telecom Multi Board
Making Arduino home construction simple!
Make your Arduino projects permanent.
The Multi Board© has been carefully designed to help you make your Arduino projects permanent. If you have ever built a project on a bread board and then wanted to keep it or make it into a finished product the Multi Board© is just what you are looking for. It has a simple yet compact layout. Simply solder your own Arduino Nano as shown on one side and if you want a simple display solder a HD44780 1602 LCD on the other. There is provision to add a 100K variable resistor for LCD contrast. Your project maybe simply powered by the USB on your nano. Alternatively provision has been made to add a barrel socket which supplies power to the raw pin on your Arduino Nano allowing 5v to 13v power supply to be used.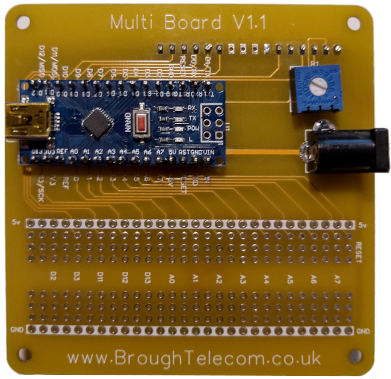 NB:- Components Not included.
The Multi Board© brings the remaining I/O pins out to 3 hole strips where you can build your own circuits. 13 I/O pins are arranged as shown on the screen printing. D2 & D3 which can be used as interrupts. D11 (MOSI) , D12 (MISO), D13 (SCK), A0-A5 (can-be used as D14-D19) A6 & A7 (analogue only input pins).

For your easy power distribution a 5volt and Ground row of pins are top and bottom. All pins are through plated so you can build your components up on either side. It is also possible to use surface mount components due to the high quality of the solder screen. For your convenience the reset pin is also presented at one end.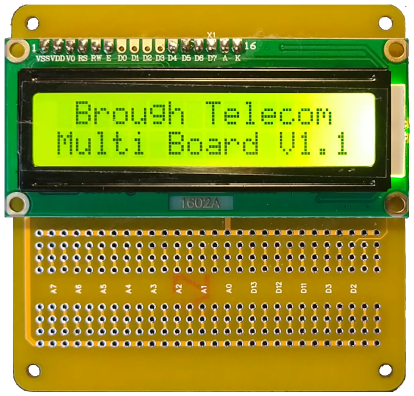 The holes have been carefully arranged to accommodate most modules that you may wish to use. If you need more free strips unwanted I/O pins can be left out when you attach your Arduino Nano or simply cut the track.
Buy Now
Free P&P